Greetings, Spark family!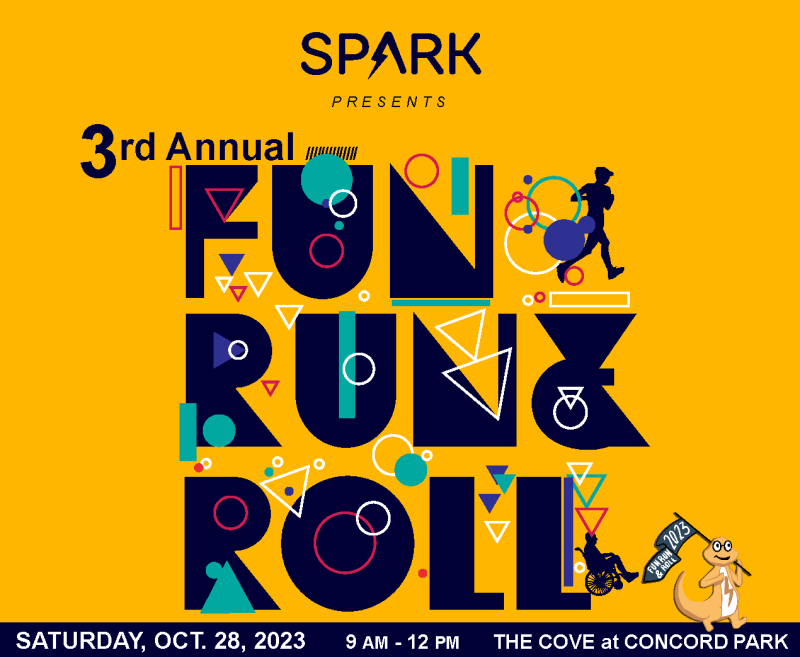 Fall is starting to feel real around here. We look forward to seeing you at our third Fun Run & Roll on Saturday, Oct. 28 – please spread the word. Our popular annual Toy Tech is in December. We have some big changes headed our way in October that we'll tell you about soon. Meanwhile, we've been busy innovating and learning from innovators and trying to keep Spark at the top of the class. Please know that your support is precious to us and the folks we serve, and your generosity is what keeps us going. Thank you for your big hearts!
Mary Thom Adams
Spark Executive Director
It's Almost Fun Run & Roll Time Again!
Please join Spark's 3rd Annual Fun Run & Roll! It's a run/walk along greenway trails. People of all ages and abilities are welcome! Or become a sponsor. Help us make this year's Fun Run & Roll the best one yet! Your financial support enables our work for the community.
Assistive Technology In the Classroom
Here's our friend Elliot Crabtree, with his teacher. Elliot was born with arthrogryposis, which limits limb movements. One day his dad called Spark with a concern. It seems Elliot, who is a very bright young man, was having trouble getting his teacher's attention during class because he couldn't raise his hand and have the teacher call on him like other students. This is a perfect example of assistive technology. it doesn't need to be complicated or expensive: it just needs to be effective.
Spark's own Brian Sward received a table lamp from Elliot's dad. Brian removed the cord and bulb from the lamp, and attached an LED light with an adaptive switch, so that Elliot could press the switch; the light could come on, and the teacher would see he's ready to answer. Spark helps real people solve real problems and live lives without limits.
Spark Ignition: Assistive Technology In the Great Outdoors
Here's Elliot again, with our friend Pete. Pete has designed this chair for Elliot's unique needs, and is seen here making some adjustments on Eliot's new road-ready motorized chair.
Support Group, Training for Vision-Impaired Available
Nancy Carter, Spark's low-vision Assistive Tech Specialist and outreach coordinator, is offering two programs at Spark that she wants to share with you. The first is a support group that meets on the first Monday of the month from 10:30 a.m. to noon and is open to persons with any kind of disability. At the meetings, the attendees gather and share what is on their minds: good news or bad. There is no therapist in attendance. It's just an opportunity for attendees to support and encourage each other. It's a good chance to share burdens and make friends. All are welcome.
Nancy also offers classes to help people with vision impairment to use their computer. This class teaches how to navigate the web and various websites, so the vision-impaired can research, shop, make appointments and get total use of their internet experience. Call Nancy today at (865) 219-0130.
Please Donate
As always, your donations help Spark to provide much-needed help to our seniors and disability community. Thank you!