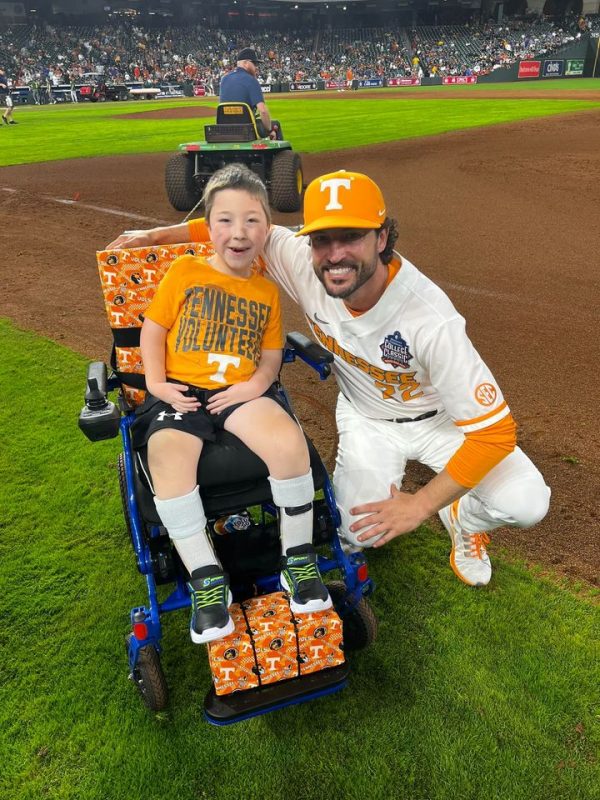 Today (Friday, March 11) is Disability Advocacy Day in Tennessee – an opportunity to celebrate the accomplishments of 1.6 million Tennesseans with disabilities.
Here at Spark, we're especially proud of 7-year-old Elliot Crabtree. This young man keeps on accomplishing – and then he raises the bar even higher.
Elliot's latest? He was Team Captain for the University of Tennessee Vols baseball team at the Shriners Children's College Classic in Houston last weekend. With the support of local Shriners and Vol fans, Elliot helped raise more than $7,500 for Shriners' medical services.
Way to knock it out of the ballpark, Elliot!
He's pictured here at Minute Maid Park with Vols Coach Tony Vitello.
The Shriners have provided care for Elliot, who was born with arthrogryposis, or AMC. He was the 2020 Kerbela Ambassador. And Spark, too, has provided adaptive toys and equipment over the years.
"We were on the field, we hung out with the players – everybody was super nice, so kind, so inclusive," says Elliot's mom, Angela Crabtree.
"Elliot was really excited. He loves being a part of something, and we're passionate about giving back. We're grateful to be a part of Elliot's journey alongside the Shriners, the Vol fans and players, and lots of other people.
BTW, last night and tonight, the City of Knoxville is switching the lights to blue on the pedestrian bridge over Henley Street downtown. The bridge is one of more than 20 Tennessee landmarks to go blue in solidarity with the Tennessee Disability Coalition and in support of #DisabilityAdvocacyDayTN.